A retired team penner gets help keeping Severe Equine Asthma under control.

By Kim Miller  | Equestrian Writer
"It looked like a cool opportunity," thought
Erin Hill Farm
manager Tara Driscoll when she entered
Haygain's
giveaway of an
HG One Hay Steamer
in May.
"I know a couple of other barns that have one and some that want one and it seemed like a beneficial thing to have."
She was excited to be the winner, and even more so when the steamer arrived a few weeks ago. "I didn't realize how useful it would be."
Ella had first dibs on the steamed hay. The 20-something semi-retired Paint horse has heaves, otherwise known as the condition on the severe end of the Equine Asthma Spectrum. It occurs from chronic irritation and inflammation of the respiratory tract that makes it difficult to breath.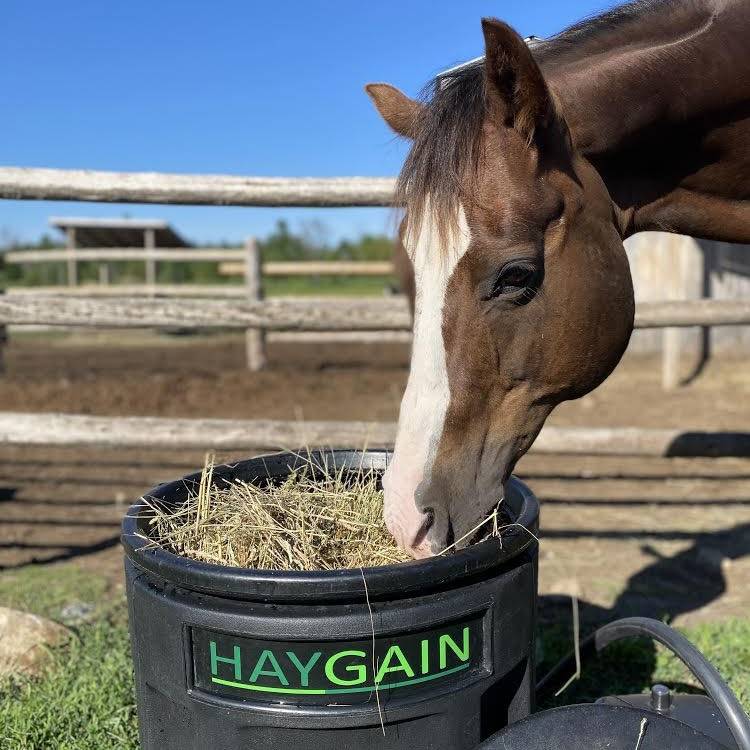 The "heaves" label comes from the "heaves line" of abdominal muscle that builds up with the effort required to exhale. On a good day, Ella's lung function is 70%, Tara estimates. Hot weather, allergy season and dusty environments make it considerably less.

Management for the mare includes a monthly steroid shot to calm inflammation and varied doses of antihistamines to reduce allergy symptoms. With the cycles of hot weather in Ontario recently, Ella would typically have needed extra doses of the antihistamines. However, with steamed hay, she was able to stay on her regular dose and remain comfortable.
When the respiratory problems first presented four or five years ago, the Erin Hill Farm team started soaking Ella's hay to reduce dust. Soaking does help reduce dust, but it's a "gross, stinky" hassle, as Tara puts it. It can also increase the mould and bacteria content in hay. Ella was one of many horses that didn't like the taste. "A lot of her hay was going to waste," Tara says. "It seemed to go sour pretty quickly, sometimes before she even had a chance to finish it."
The hot weather, the medications and the general malaise that comes with allergies all seemed to further suppress Ella's appetite. In her first few weeks of getting moist, aromatic Steamed Hay, Ella is eating her meals with more enthusiasm and leaving less to waste.
Erin Hill Farm is a private boarding and training facility located in Beckwith, Ontario. The emphasis is high-quality horse care and most equine tenants are competitive hunter/jumper horses.
As a retired team penning horse, Ella is not pursuing competitive glory anymore, but her health and well-being are taken as seriously as those who are. She is worked regularly and lives a lovely life on Erin Hill Farm's 60 acres. With Haygain Steamed Hay added to a careful management routine, Tara hopes that Ella's heaves-related visits to the equine hospital are behind her.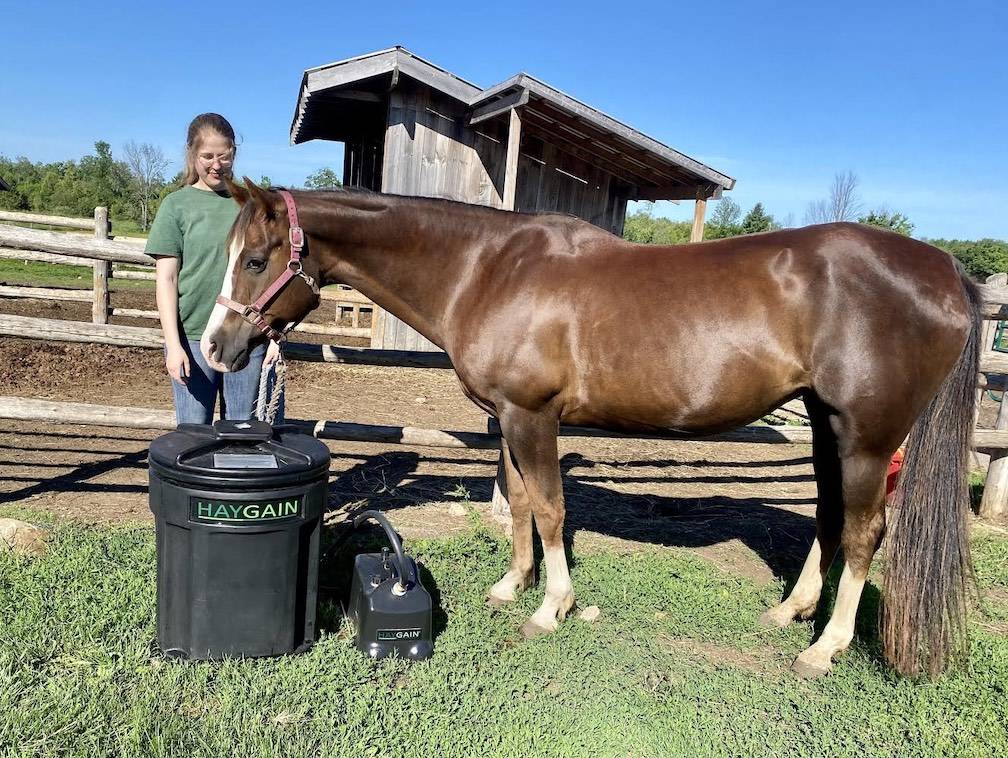 Along with being pleasantly surprised with how useful the Hay Steamer is, Tara was delighted to see how simple it is to operate. "I was worried at first because I thought it was going to be a lot of work and time," she says. "It was way more simple to use than I thought it would be. We pre-load the hay and it takes less than 45 minutes to steam it." (Steaming times are typically an hour, but vary based on ambient and water temperatures.)
Reducing Respirable Irritants
Developed in conjunction with the Royal Agricultural University in England, Haygain Hay Steaming reduces up to 99% of the respirable irritants found even in hay of good nutritional quality. These microscopic bits of dust, mould, bacteria and other allergens slip past the equine respiratory system's natural defences. The irritation they cause triggers inflammation that is the hallmark of all conditions on the Equine Asthma Spectrum. That's why Haygain Steamed Hay is widely recommended for reducing the risk of, or managing, respiratory problems in horses.
High Temperature Steamed Hay also nearly triples the moisture content in hay, which is great for digestion and hydration. And, as with Ella, anecdotal evidence corroborates scientific studies in which most horses prefer Haygain Steamed Hay to dry or soaked hay.
Tara won much more than a social media contest. She considers herself to have received a very helpful tool for Erin Hill Farm's priority of taking top care of its horses.
Get the Haygain Newsletter 
Subscribe for the latest news, health advice, special offers and competitions. Fill out the form at the bottom of this page.