Canadian Olympian Jacquie Brooks Sees Steamed Hay as New Standard in Horse Care
Two-time Canadian dressage Olympian Jacquie Brooks has seen many horse care fads in her 20-plus years in the sport. Haygain Steamed Hay isn't one of them.

By Kim Miller | Equestrian Writer
Since a client brought a Hay Steamer to Jacquie's Brookhaven Dressage in Ontario a few years ago, high-temperature steamed hay has been part of the daily routine. And not just for horses that struggle with respiratory or digestive issues, the conditions Haygain is best known for addressing.
"I don't just use it for horses that have a reason to use it," she explains. "We use it to prevent problems. It improves hydration, helps reduce irritants and allergens, and it smells great. There is no downside. It's one of those simple things that should be the new standard in horse care."
Jacquie's Five Faves About Steamed Hay
1. Hydration. Haygain Steamed Hay has nearly triple the moisture content compared to dry hay. That's especially reassuring during hot summer travel. "A lot of horses don't drink anything until the third gas stop," the veteran international competitor shares. "Our horses like the taste of Haygain, so I know they are getting hydrated when they're eating it in the trailer."
2. Fewer Airway Irritants. Steaming reduces up to 99% of the dust, mold, bacteria and other respirable irritants found even in good quality hay. "The fewer irritants, the better."
3. Fewer Allergens. The best way to prevent allergies is to reduce allergens in the horse's environment, especially in their breathing zone. Forage can be loaded with allergenic particles and steaming drastically reduces them. Jacquie has found Steamed Hay especially helpful for horses imported from Europe. The change in environment often makes imports seem "allergic to pretty much everything in Canada" because the horses weren't exposed to it before.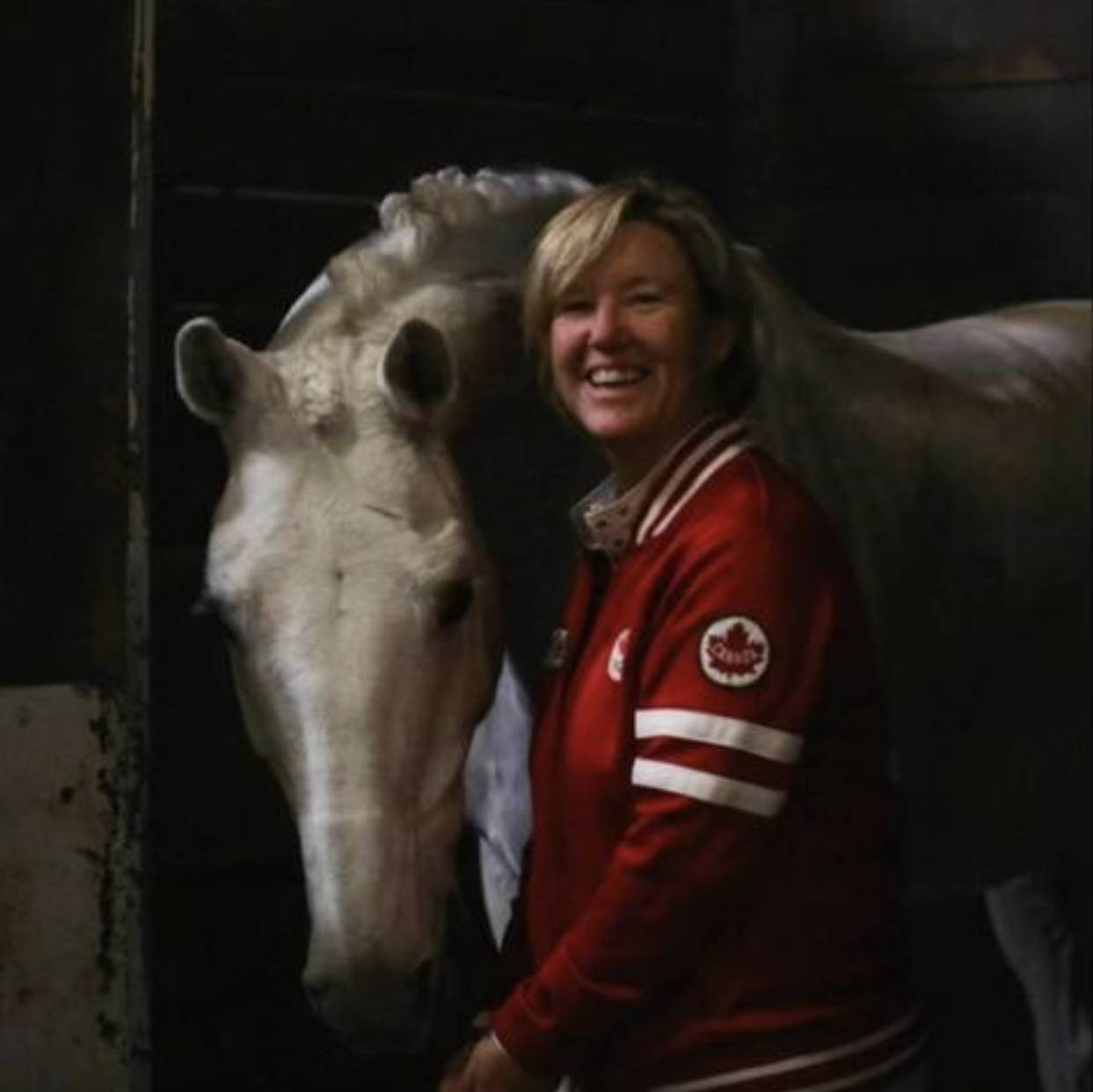 4. It's Not Soaking! Prior to a client bringing their Haygain to Brookhaven, Jacquie's crew soaked hay to reduce dust. The messy and laborious process is hard enough in the winter: in the summer, "It's gross!" Jacquie asserts. "Flies are all over it, the horses don't like how it tastes and it's hard on the staff."
Plus, soaking for even just 10 minutes can increase the bacteria content of hay significantly. And, unlike Haygain steaming, soaking leaches nutrients.
5. It Makes Sense. "Horses do the best on grass, but grass is not accessible to most horses. The human solution is drying grass to make hay. Steaming rehydrates the grass, so what could be more healthy?"
Jacquie's full-bale HG 2000 steamer stays at home to feed the typically 19 horses who live at Brookhaven. The easily-portable HG 600 model enables the show horses to stay on their consistently clean steamed hay while competing. Jacquie's grooms report that both models are easy to use at home and shows.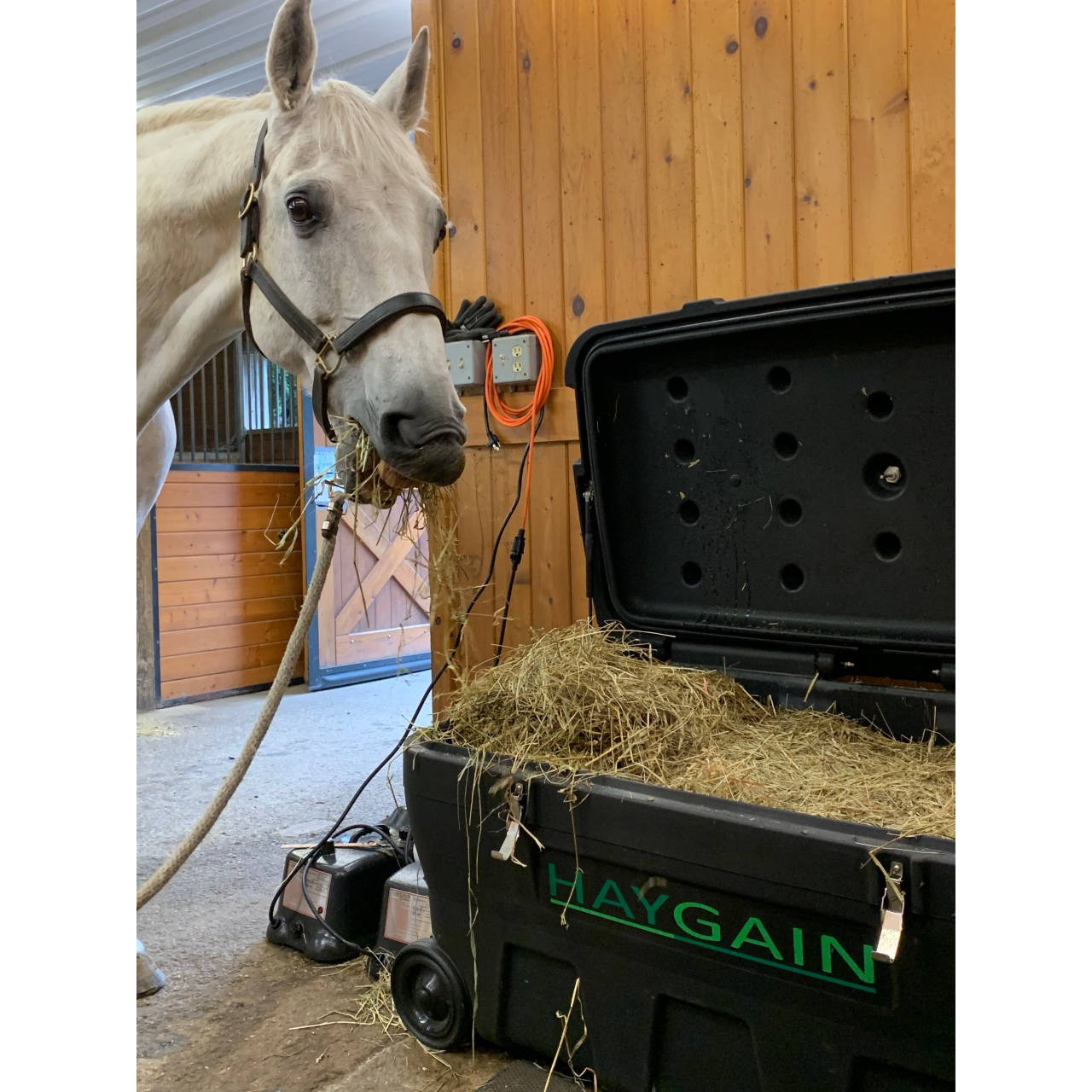 After the long COVID closures of the show circuit, Jacquie and the Brookhaven team had a wonderful time in early July at Caledon Dressage at Angelstone. The fun factor was amplified by riding some of the four hot prospects Jacquie is grateful to be bringing along right now. The Beijing and London Team Canada rider predicts that the 10-, 8-, 5- and 3-year-olds are capable of maturing into Grand Prix horses likely to keep her on the international stage for another 10 years.
At Angelstone, Jacquie and Te Amo Quos, the 10-year-old, were third in the FEI Test of Choice. Blind Date HW, the 5-year-old, won the Gold Overall High Point award, with fellow professional Maya Markowski in the irons. Maya campaigns the young horse in accordance with Jacquie's rule: "For every decade of my age, the horse has to be another year older before I'll compete them."
Along with bringing these stars up to the Grand Prix level, Jacquie coaches a growing roster of accomplished young professionals, in dressage, plus eventers and jumpers. Her experience at the Grand Prix level helps her articulate the small details that lead to big improvements.
That same experience lets Jacquie sort fad from fact when it comes to her horses' health. Hence the inclusion of Haygain Steamed Hay for all of their daily routines.
Get the Haygain Newsletter
Subscribe for the latest news, health advice, special offers and competitions. Fill out the form at the bottom of this page.