Dusty Hay? "No Way!" Says Jay

By Kim Miller | Equestrian Writer
The former Canadian team jumper and now coach, course designer, clinician, commentator, and host of
Horse Network
's
The Jay Duke Show
knows a lot of things. His perspective on hay is informed by first-hand experience.
"As a kid, we harvested a thousand bales of hay every summer. I was always aware of the dust you see in the hay. Then sometimes the hay is stored for several months before getting used and it can get even more dust."
As a horseman, he also knows that hay is "the most important thing we put in the horse's body."
With that background, Jay knew that
Haygain High Temperature Hay Steaming
would be huge for horse health the minute he heard about it. It became more of a "no-brainer" when he saw the science documenting Haygain Steaming's ability to reduce up to 99% of the respirable particles commonly found even in fresh hay that's loaded with important nutrients.
Unlike the dust
Jay
could see in the summer harvests of his youth, the "respirable" particles in forage are invisible and tiny. They're small but mighty in their bad impact on horse health. At less than 5 microns in size, they can evade the horse's natural respiratory defence mechanisms in the upper airway and get into the lungs. Once there, they can irritate the lining and cause mucus and inflammation. This restricts both airflow and the transfer of oxygen from the lungs into the bloodstream that carries oxygen to every cell in the horse's body.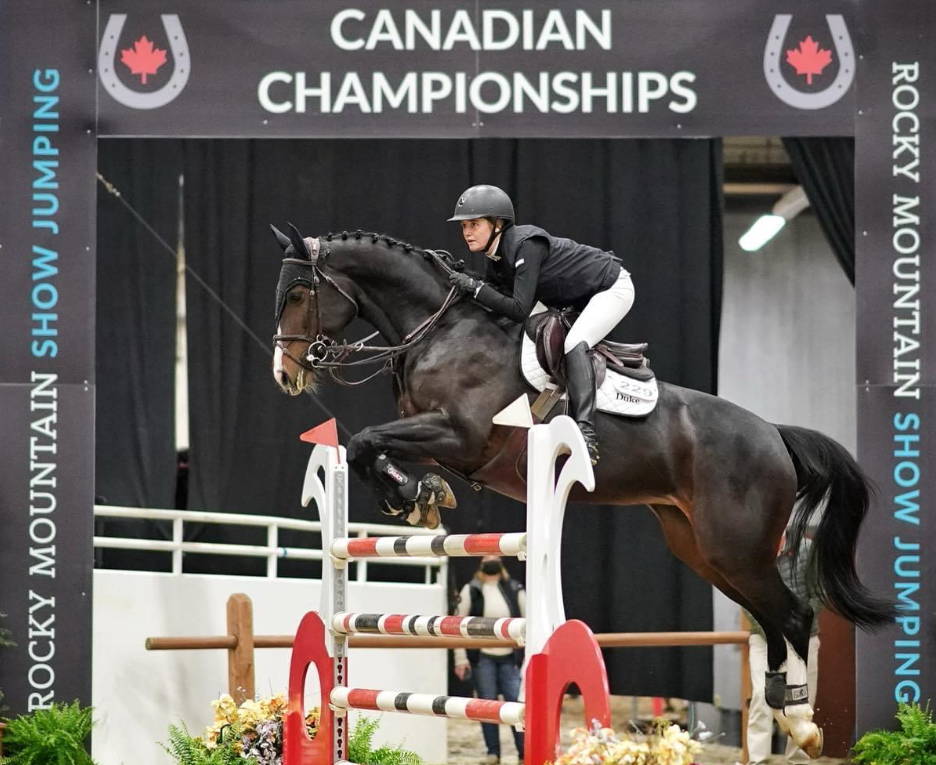 Jay started steaming hay for his daughter Halle's horses and for their own prospects to help maintain their good health. While respiratory issues are surprisingly common in active sport horses, often without obvious symptoms, the Duke family steeds didn't have any when Jay sought out Steamed Hay. Instead, he considered it a proactive step in keeping things that way. Plus, it complimented his program's emphasis on "clean living" at home and shows. Plenty of ventilation in a ship-shape barn, spending ample time outdoors and getting clean food and water are simple basics with super pay-offs, Jay says.
"Hay is the #1 most important thing for horses because they get so much out of it. If you can take that hay and make it better, you should. Haygain makes it a whole lot better. It doesn't matter what kind of hay you put in there. It's going to make it better."
Thriving Is An Understatement
Halle's top horse Ilana is enjoying and thriving on Steamed Hay. They made that an understatement this past weekend by winning the Canadian National U25 Championships at the Royal West with three fault-free rounds. Halle is only 18 and the mare is only 8, but they are soaring together.
The Dukes are based at the family's Blarney Stone farm in Edmonton, where Jay blazed the trail Halle now pursues. He was coached by his mother, Cheryl Anderson, and now combines his inherited horse sense with his extensive experience and successes to impart wisdom to current professionals and the next generation of riders alike. Ben Asselin, Vanessa Mannix, and Elizabeth Gingras are just a few of the equestrians that Jay worked with as young riders on their way to representing Team Canada.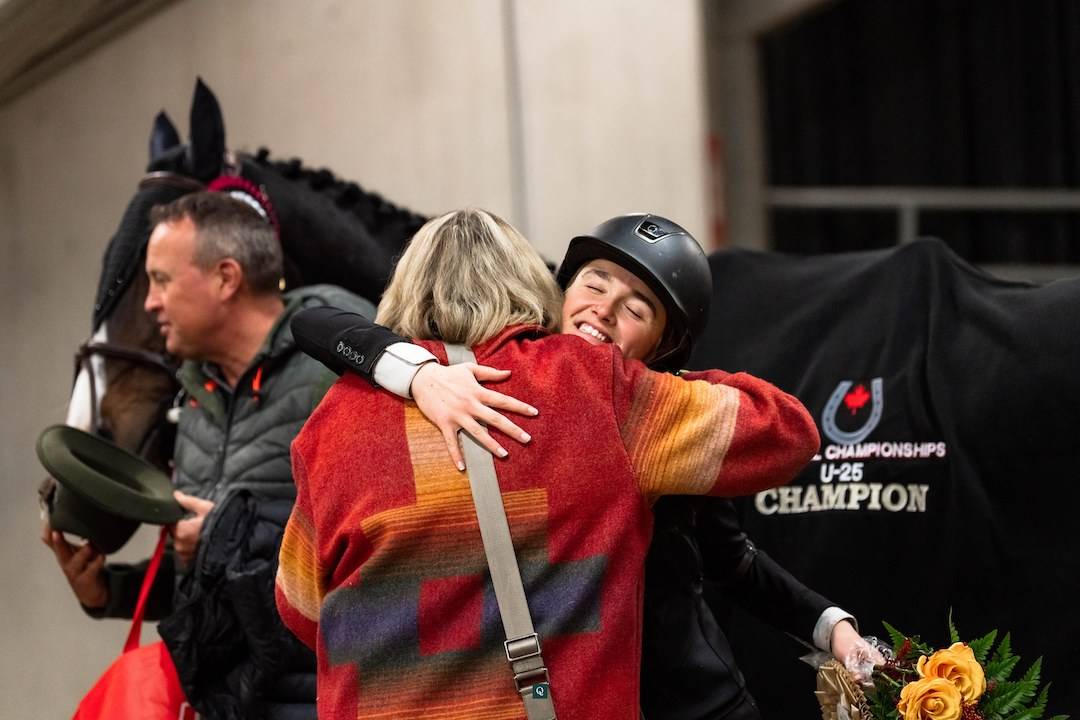 As a coach, clinician, media personality and commentator, he's knows the dirge about horsemanship becoming a lost art. "There is a lot of talk about that, but when it comes to horse health, I think the level of education has really increased. It includes what we are feeding horses and how they're maintaining them. I see this all across the sport, from professionals down to the young riders.
"The more education there is, the better," he continues. "When you have a product like Haygain, people realize they should look into it. Then they read the science and it's an easy decision to make."
Jay enjoys coaching Halle. The normal challenges that can arise when parent and child are also coach and student are beyond worth the gratification of seeing Halle flourish in equestrian sport. "When I was a kid, my mother taught me so I had some background in it. There are some moments, but we do pretty well with that."
Jay's mother Cheryl Anderson coached several Canadian national team riders and his father is in the Pro Rodeo Hall of Fame.
He hasn't wanted or needed to push Halle at any point. "It's the exact opposite!" Jay laughs. "But I have told her that if she wants to pursue this life, she needs to go all out and do it right. You have to really want it."
Halle clearly does. While Jay is her primary coach, he defines part of that job as having her work with other professionals as often as possible. She's worked off coaching opportunities with several pros of Jay's peerage and hopes to do so again this winter in Wellington, Florida.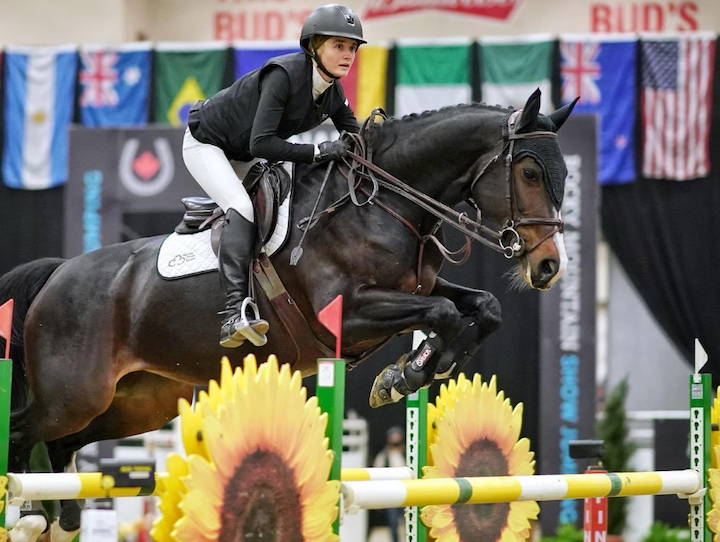 Although he no longer rides himself, Jay keeps plenty busy wearing his many professional hats. He'll put one of those back on soon when season 3 of The Jay Duke Show on Horse Network begins.
These candid, entertaining and insightful conversations with contemporaries and up and comers in the equestrian world tap Jay into the latest thinking in the sport. Topics range from sport governance challenges to most trusted tools for keeping horses healthy and performing at their peak. On that topic, Grand Prix riders including Beth Underhill, Lillie Keenan and Nicky Galligan were among those with whom Jay shared the common ground of knowing a lot about hay and believing that Haygain Steaming is the best way to give it to their horses.
Get the Haygain Newsletter
Subscribe for the latest news, health advice, special offers and competitions. Fill out the form at the bottom of this page.