Horse Health Benefits with a Bottom Line Bonus
Ontario Facility Owner Discovers Steamed Hay's Many Plusses
By Ashley Newell Sakaguchi, owner of Lake HouseStables

Set on 110 acres in Ashburn, Ontario, Lake House Stables is an equestrian facility that offers a progressive developmental pathway for both horse and rider at every level. From public riding lessons, seasonal camps to competing at bronze to gold level shows, training and sales.
As if that's not enough, we also produce our own hay. As we all know, forage is one of the most important factors to a horse's health. With so many types of animals on the farm, most with multiple roles to play, these unicorns of the sport need and deserve all the support possible.
In addition to protecting and maintaining the treasured lesson horses, Lake House is home to performance horses that campaign for the Royal Agricultural Winter Fair (RAWF), compete in Ocala, Florida throughout the winter. Some of these top equine athletes are owned by clients or leased from other trainers across Canada and the US. This adds another level of support and attention to detail to ensure each horse completes a season feeling and looking their best.
Dry Cough – An Unwelcome Arrival
With all the activity at Lake House, a few horses arrived in early 2022 with a dry cough that was noticeable in their stalls and also at the beginning of their rides. The first steps to relieving these horses of their cough and discomfort was to remove them from round bales outside and feed only small squares over controlled feedings.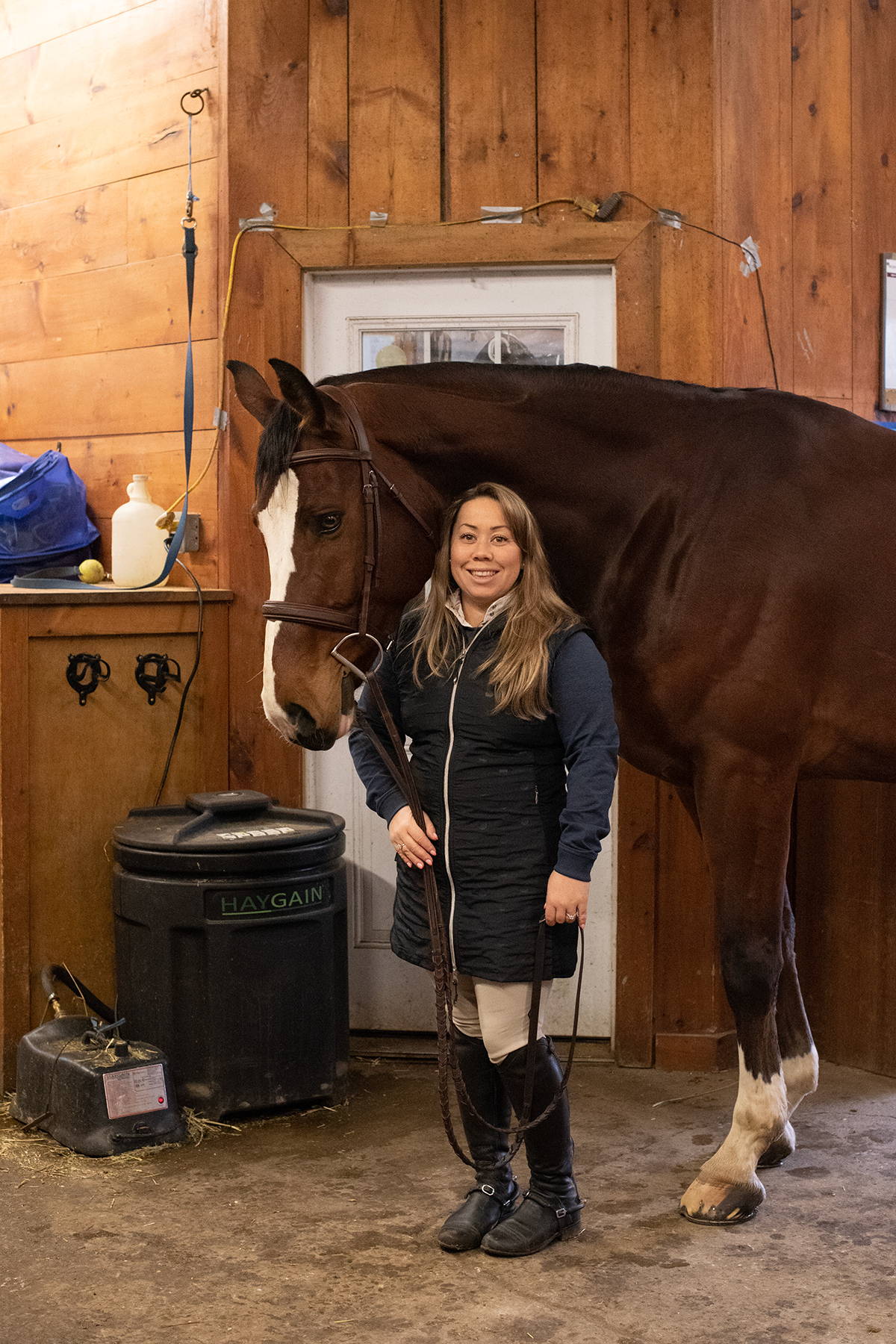 From there, if the cough hadn't improved, replacement of shavings in their stall to straw bedding to rule out environmental allergies. We also incorporated soaked hay cubes and then a nebulizer to administer medication.
Because this cough was new to the farm, we prioritized ridding the horses of this uncomfortable and frustrating symptom. After seeing Facebook ads about the Haygain Hay Steamer and a new partnership with Ontario Equestrian offering a discount to members, purchasing a steamer seemed like a natural next step to see if it would benefit the horses at the farm.
With only a matter of weeks of offering Haygain Steamed Hay to horses with a cough, the cough, believe it or not, was gone!
The system was easy to set-up, the horses gravitated to the steamed hay without any hesitation and have been on controlled Haygain feedings ever since. Now, another larger Haygain steamer has been purchased.
Along with helping the horses, it provides a new revenue source to the business by offering only steamed hay to client's horses.
A Bottom Line Bonus to Healthy Hay
From a business standpoint, it was easy to invest in another Haygain unit as clients saw the benefits of the steamed hay and wanted to give the best to their horses as well.
Bringing new technology or products into a barn can often be met with reservation, knowing that both financial and health associated risks can be involved. That has not been the case with Haygain. The benefits of Haygain steaming have been nothing but positive - with the added benefit of the incredible scent that accompanies each steaming cycle.
Haygain is a key player in our horse's health as we can now support the pony that might have heaves or the older lesson horses with a chronic cough. Haygain is a product worth sharing a rave review about. We welcome any trainers and farm owners to reach out to us with questions should you be thinking about incorporating a steamer into your daily routine.
Get the Haygain Newsletter
Subscribe for the latest news, health advice, special offers and competitions. Fill out the form at the bottom of this page.