Lockdown Life with Selena O'Hanlon
Olympic eventer, Selena O'Hanlon makes the most of lockdown life with creative fitness exercises and steamed hay to combat the unique allergy challenges presented by indoor horse keeping.

By Kim Miller | Equestrian Writer
As the top Canadian in the Kentucky Three Day Event in 2014 and 2017, Olympic eventer Selena O'Hanlon has fond memories and high hopes for future runs in what is one of the most challenging and prestigious equestrian competitions in the world.
After a COVID cancellation in 2020, the competition was, somewhat miraculously, staged in late April. But this time Selena had to watch it from the couch, like the rest of the world following from afar on the livestream.
Ontario's long-standing and ongoing stay-at-home orders eliminated any chance to prepare for the spring show season, in Florida and Pennsylvania, as Selena normally does. And her team of horses is in building mode when it comes to readiness for CCI5*-L level eventing.
The riding at O'Hanlon Eventing's Balsam Hall Equestrian Centre training base in Kingston has been exclusively indoors thanks to winter's cold weather and icy outdoors. The vibe is quiet and the care of many horses is in the hands of a few thanks to the lockdown.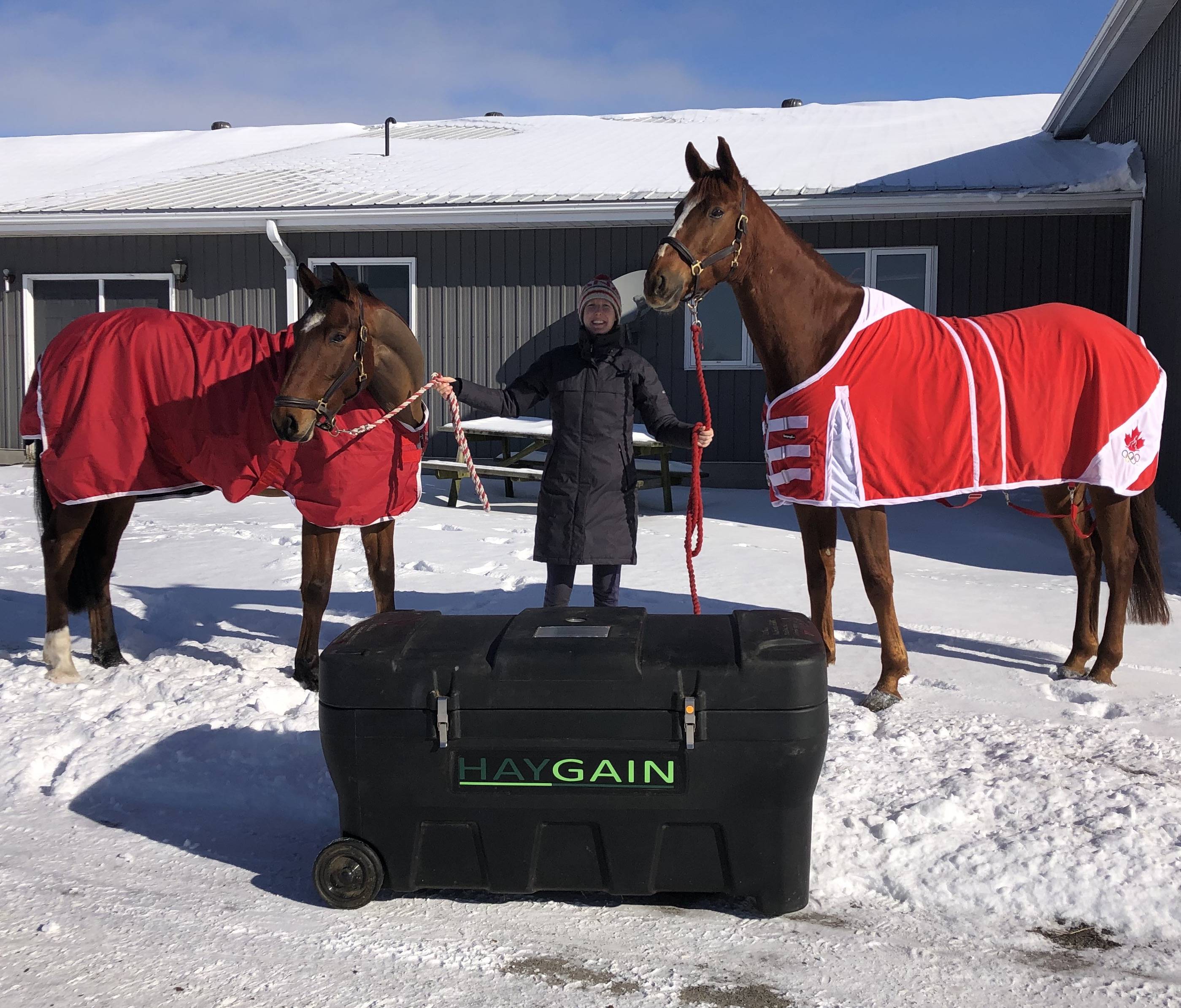 But it takes more than extended confinement to get the 2008 Olympian and three-time World Equestrian Team member down. She'd rather get creative than crabby, so she's focused on keeping her horses ready to ramp up for the show season -- whenever that time comes.
The unpredictable return-to-competition timelines call for making the most of relatively light, short work-outs. Elevated cavaletti work, at the walk, and "bounce" jumping exercises are keeping her horses fit, without undue wear and tear on their bodies or boredom in their brains.
Cavaletti at the walk is an exercise recommended by U.S. and Canadian eventing team physical therapist Jo-Ann Wilson, M.Ed., Selena explains. "Because the horse is going slower, at the walk, they have to lift up each leg longer, which is more work for them. It's really hard to build up the horses' stifle muscles when you can't do hill work. This builds up their stifle and hamstrings."
Using light poles on plastic blocks, Selena works up to setting the poles a little below the height of the horse's knee. She typically starts with five passes through a set of five poles, then gradually increases. Under normal circumstances, she'd do raised cavaletti walk work once a week. These days it's twice a week because there are few other fitness options.
For cardio, Selena likes bounce exercises in which low jumps are set approximately 9-10' apart so the horse "bounces" through, landing then taking off without a stride in between. "Horses don't breathe when they do bounces, so it's good for building up their cardio."
To sharpen form and technique, Selena sets alternating high-side cross-rails to encourage straightness with vertical fences. Balsam Hall's indoor arena is on the small side and bounces are an efficient way to make the most of it.
To avoid boredom and repetition, she's finding about 35 minutes sufficient for each horse's total workout. Whenever the weather permits, that is complemented by time in outdoor pasture and hand walking wherever there's enough traction to do so.
Even without the pandemic, Selena was facing an unusual off-season. In cross-country competition in mid-August of last year, one of her young horses opted for the gap between a skinny fence and a tree. There wasn't room for her left leg, leading to a dislocated ankle and an avulsion fracture at the lower part of her tibia bone. She was in the hospital for surgery and out of the saddle for a several-month recovery.
Selena was back to coaching by mid-September, back to walking by late September and back to favourite fitness routine - mucking out stalls - soon after. Today, she's thrilled to be able to stand in her stirrups at the canter and to be regaining elasticity in the Achilles tendon that is important for maintaining a secure, heels-down position in the saddle.
Seeing German Olympic gold medalist Ingrid Klimke skip the stirrups on an off-day of the World Equestrian Games confirmed Selena's long-standing commitment to no-stirrup work. It was the only option initially when returning after her injury. Now, "I actually prefer jumping with no stirrups. One of my bad habits is to lean forward early at the jump. I'm hoping this work will make a difference!"
Indoor Living Reaffirms Steamed Hay Benefits
Extra time to review horse care routines is one upside of the lockdown. In that department, Selena is grateful for Haygain Steamed Hay. She first learned of it while riding at Sir Mark Todd's stable in England in 2014, so it's not new to her program. The pandemic has proven that high temperature steamed hay is as important to horse health in the off-season as it is during showtime.
For her top horse and Olympic partner Foxwood High, steamed hay helped improve the picky eater's appetite. All her horses enjoy the respiratory benefits of forage free of 99% of the dust, mold, bacteria and other allergens found even in hay of good nutrient quality.
More recently, an up-and-coming horse suffered back-to-back colic bouts. Careful management keeps it under control, but worries linger. These were heightened because the horse was not a big drinker to begin with, and even less so when the water is cold, or worse, frozen. That's why dehydration can be as big a problem in the winter as it is during sizzling summers.
Haygain steamed hay has three times the water content of its dry counterpart. "It really helps get moisture into him," Selena says. "He needed to put weight on and it has helped with that, too." Many horses tend to drink less in the winter, so Selena is happy they're all getting more water in their diet with steamed hay.
Although allergies are often considered spring and fall issues, indoor living is making things tougher for a few of Balsam Hall's residents. There, too, steaming's ability to reduce inhalable irritants goes a long way toward maintaining their easy breathing, health and comfort.
And how is her superstar Foxwood High, aka "Woody," handling the lockdown?
Selena's Olympic and WEG partner is enjoying retired life at the home barn of his owners, John and Judy Rumble. John helped the Canadian eventing team earn Olympic bronze in 1956 and now hopes that his grandchildren might get to ride Woody "when they get a little taller," Selena reports. Being part of "Team Woody" for the Badminton Horse Trials in 2018 made lifelong fans of the Rumbles' adult children and the horse bug is now embodied happily by a third generation.
Get the Haygain Newsletter
Subscribe for the latest news, health advice, special offers and competitions. Fill out the form at the bottom of this page.