Healthy attitude and lifestyles fuel remarkable accomplishments for Canadian pair.

By Kim Miller | Equestrian Writer
Canadian Paralympian Winona "Noni" Hartvikson is a horsewoman first and a para dressage rider second.
Sitting ringside with her is a free lesson in classical dressage as she transmits advice to her working student, Courtney Palleson. It's a mild winter day in the California desert and Courtney is warming up Onyx, Noni's 2020 Tokyo Paralympics partner. Trained as an able-bodied rider by German, French and Spanish masters, and educated as a dressage judge, Noni coaches Courtney in ways that fulfill the goal of lightness, responsiveness and harmony.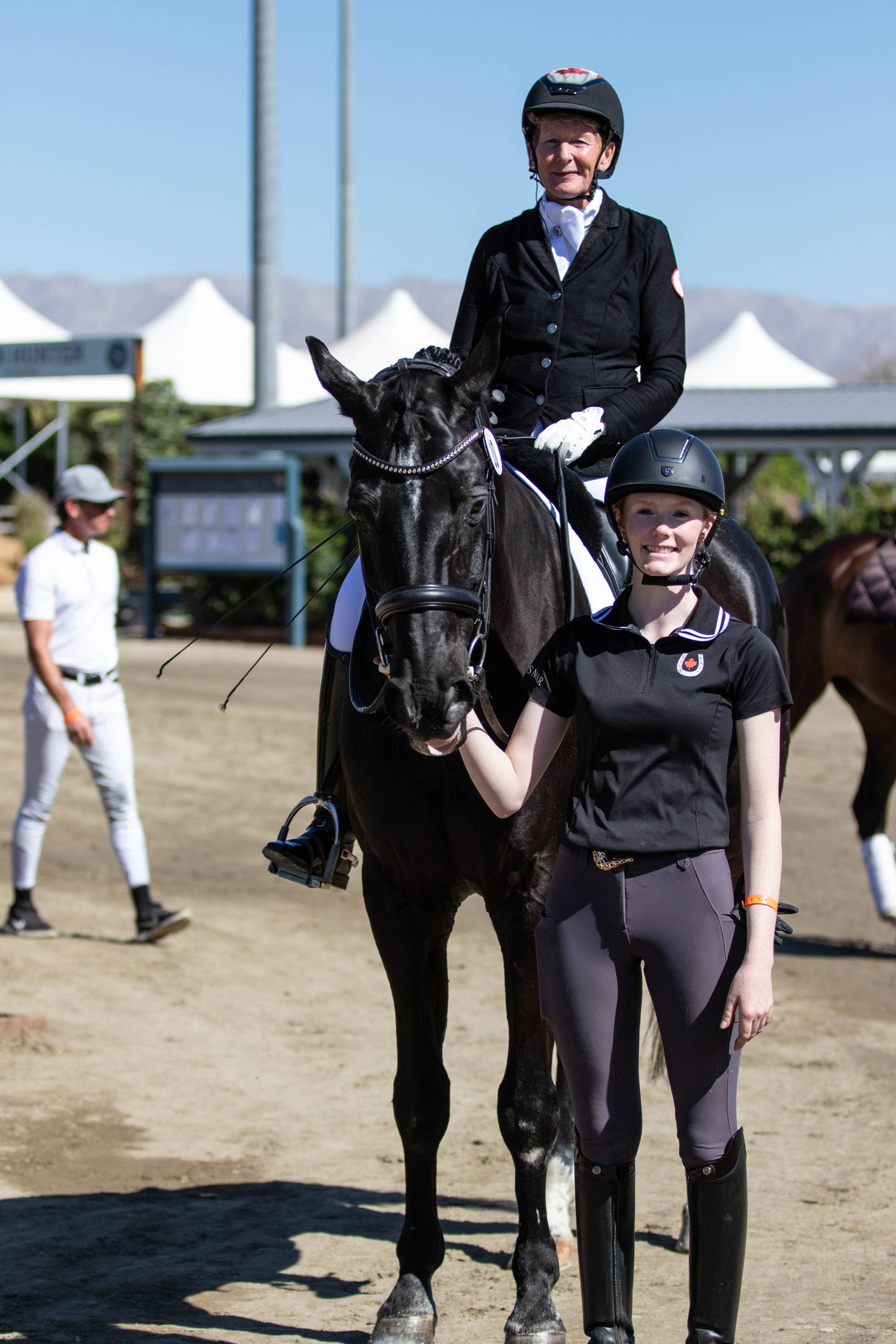 Warm-up completed, Noni and Courtney switch places: Courtney running a grooming towel over Onyx's gleaming black coat; Noni in the saddle gathering herself for a CPEDI 3* Team Test #1 hoped to earn a qualifying score needed to represent Team Canada at the World Championships this August.
At 62, Noni is riding elegantly into her 32nd year since receiving a multiple sclerosis diagnosis. Onyx is a decidedly youthful 19. He traveled so many miles getting to Tokyo and back that the trip from their home in Langley, British Columbia to Southern California seemed a short hop.
Into the arena they go for a panel of three international judges to scrutinize every move, every cue, every intake of air. To those unfamiliar, it may not seem there's much happening in Noni and Onyx's test, conducted at the walk. As in able-bodied dressage, however, the more subtle the signs of communication between horse and rider, the more effective the partnership and the more the judges reward it. Hence Noni and Onyx's 72.857%, well above the 68 needed to be one of two required qualifying scores for the World Championships in Denmark. They topped that in two rides that followed over the weekend, accomplishing their mission.
Noni's condition puts her in Grade 1, representing the most extreme physical challenges of para dressage's five grades. Multiple sclerosis manifests in myriad ways in those who have the central nervous system disease. Noni is grateful for early advice to lead a healthy lifestyle as the best medicine for managing it. "Being married to a professor of medicine is probably the best thing that ever happened to me," she says of her husband and fellow horseman Duncan Murray. "He said that if you live a lifestyle that helps you manage the disease, you will probably live longer than people who do not have a chronic disease. That has proven to be true."
Shortly after the Paralympics, Noni's neurologist told her that her level of fitness was higher than when she'd last examined her two years prior. "She said, 'Whatever you are doing, keep doing it.'"
Noni credits healthy diet and exercise with enabling her to lead an active, adventurous and rewarding life with horses, and being in her performance prime at an age when many able-bodied riders might have hung up their spurs.
It's not rocket science or fancy diets: it's food that fuels the body, walking with the necessary aids and riding to stay strong, resting as needed, using energy wisely and surrounding herself with positive-minded friends and supporters.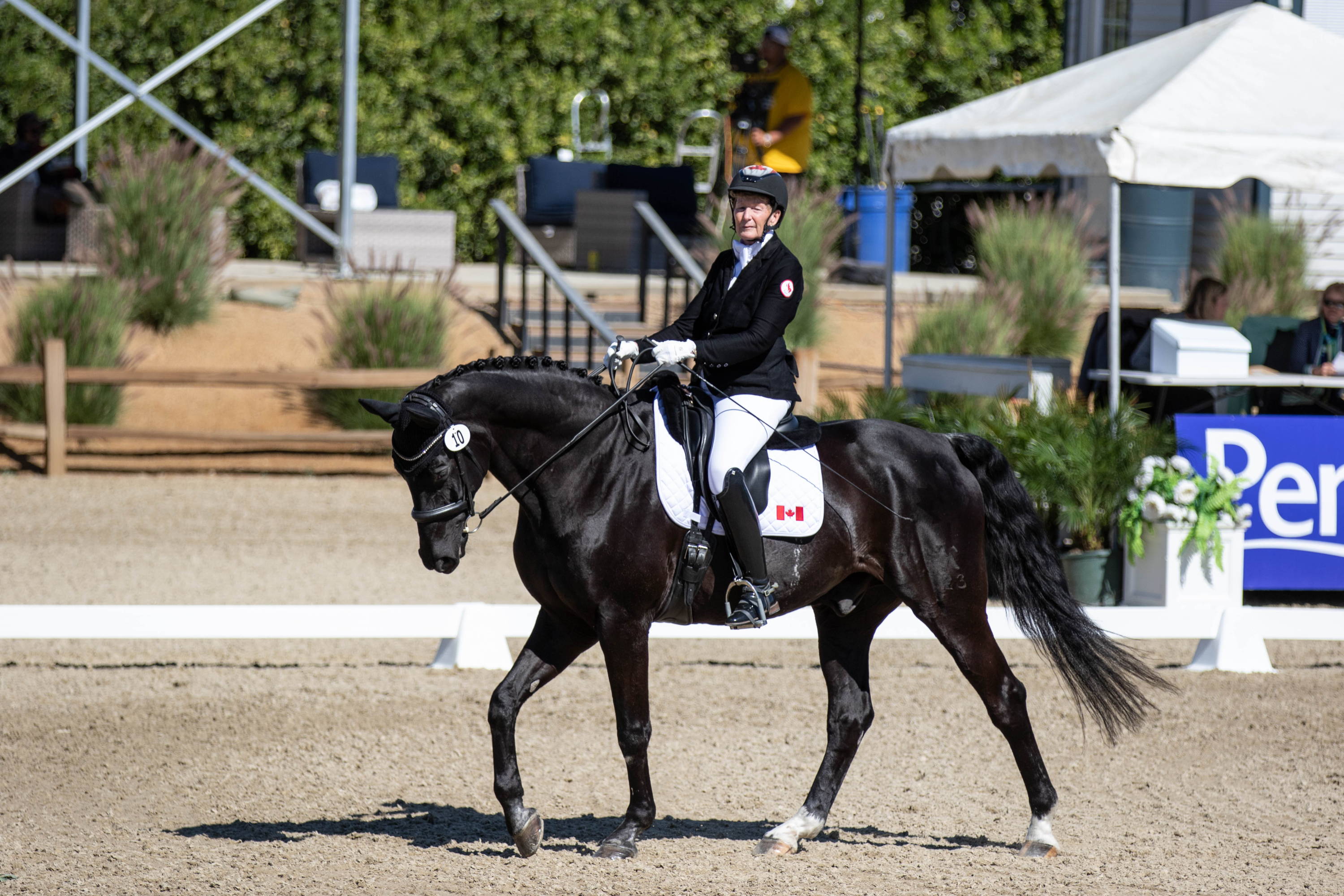 The three horses Noni has worked with since starting her para career in 2017 have had their health challenges. With most of their conditions, she's found that simple solutions are the best. That's how she came to Haygain High Temperature Steamed Hay.
Noni reached out to Haygain before embarking on the long and circuitous trip to Tokyo. Because of COVID, the journey from British Columbia started with traveling to Aachen, Germany, where all horses and riders from North America had to quarantine before traveling another 19 hours to Tokyo.
Long Trips = Respiratory Risks
With so many hours confined in a trailer or airplane, with Onyx' nose hovering over a hay net, sustained exposure to respirable irritants was a big worry for his respiratory health in transit and on arrival. "My veterinarian, Dr. David Paton, recommended looking into a hay steamer as a good way of keeping the dust down," Noni recalls. Haygain steaming reduces up to 99% of the respirable irritants commonly found in hay: including dust, mold, bacteria and other allergens.
Haygain was happy to help, although it turned out that international shipping delays prevented Onyx' hay steamer from arriving in time for the Tokyo journey. When it did arrive at Noni's home barn, it was loaned to a neighbour's Welsh Cob pony stallion that had been diagnosed with Severe Equine Asthma.
While she would have preferred to have the hay steamer in Tokyo, Noni was at least happy to hear how much it helped the stallion. "Within two weeks of starting on the Steamed Hay, the pony's breathing went from horribly abnormal to normal," Noni says. "He went from being unrideable and the owners wondering what they were going to do with him, to him coming off all medications, not coughing and being rideable again. That was the most interesting and miraculous story I'd ever heard."
Competing in Tokyo was a true odyssey, Noni reports. Despite an ill-timed cough that negatively affected a score in one of their tests, Onyx and Noni helped Team Canada to a top 10 placing. Upon return, she was excited to try the Haygain for her own horses: Onyx and his younger stablemate and Paris Paralympics hopeful, Geronimo.
"They love it," Noni says. She's especially grateful to have Steamed Hay for Onyx. Like many horses, he often coughs when starting exercise. "An able-bodied person can sit up in the saddle for that, but I can't release the reins fast enough. It's not like I'd fall off, but it's not good." More importantly, she knew that even occasional coughs in a horse can indicate respiratory problems. That's when most veterinarians would like to be called to exam the horse for early and easily treatable signs of respiratory disease.
"It surprises me how much dust and allergens are in hay," she observes. "The steaming really gets all that out. I've found it to be tremendously beneficial to reduce the dust and allergens. Haygain has completely resolved Onyx' coughing issues."
Noni and Onyx plan to return to California for another CPEDI in May. If they excel as they did in February, they'll qualify for the World Championships in Denmark. With horses, plans are always changeable, but Noni hopes to close out Onyx's competitive career on a high note.
Without doubt, it will close out on a healthy note, thanks to conscientious care given with the same attention Noni gives to her own health and with equally great results.
Get the Haygain Newsletter
Subscribe for the latest news, health advice, special offers and competitions. Fill out the form at the bottom of this page.