Renowned Hard Worker Welcomes Haygain as an Easy Addition to Healthy Horse Care

By Kim Miller | Equestrian Writer
Pan Am Games gold medalist Sarah Lockman Tubman knew that her horses would love and benefit from Haygain Steamed Hay. She wasn't so sure her barn staff would feel the same.
"I thought it might be another hoop for my poor employees to jump through," she acknowledges of her expert, but small staff. "But it was so simple. The chest is easy to maintain. That's huge when something that is so great for the horses is also so easy to do."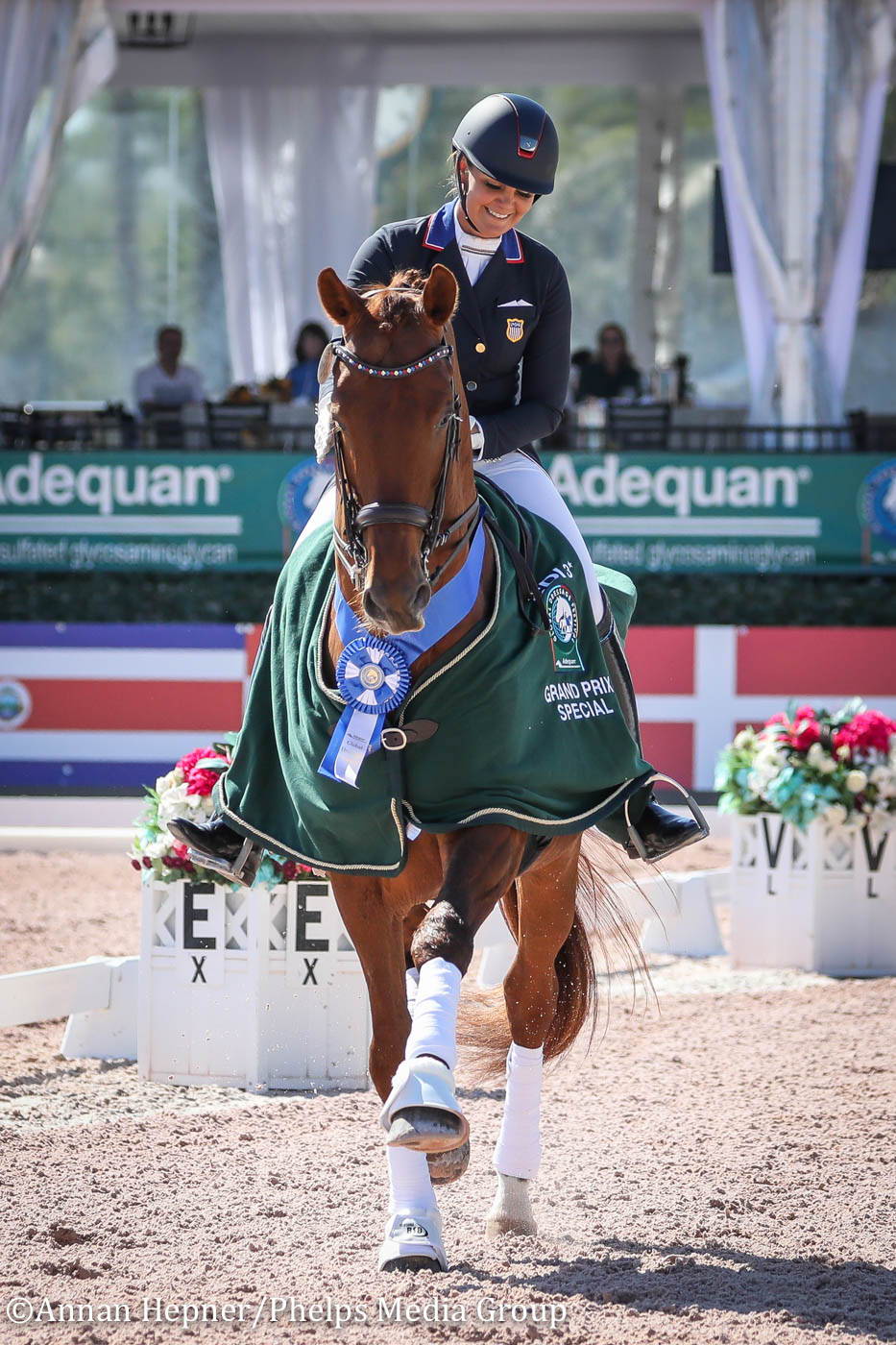 The native California dressage rider began as an eventer. She noticed her friends from that discipline adding Haygain to their horses' program some time ago and the more recent adoption of her contemporaries on the international dressage circuit.
"It's smart to look at what eventers do as far as conditioning their horses and supporting their respiratory health," Sarah observes. "Going cross-country, you can't leave anything to chance."
While dressage doesn't pose the same physical risks as cross-country, a horse that can't fully capitalize on the oxygen capacity of its lungs might scrimp on extensions or peter out in piaffe. Percentage point fractions separate placings and qualifying scores, so a small compromise of performance has big consequences. Many veterinarians consider Irritation-triggered inflammation in the respiratory tract the top performance limiter in otherwise sound horses.
Haygain's patented hay steaming process reduces up to 99% of the dust, mold, bacteria and other allergens commonly found even in hay of good nutrient content. These are the main causes of respiratory challenges that affect over 80% of active sport horses, often without obvious symptoms.
"Even if it just reduced the risk by 5%, it's always worth it, especially with the high quality of horses we are bringing along," Sarah comments. The risk reduction is considerably more: In a
study
published in the Journal of Veterinary Internal Medicine, horses fed Haygain Steamed Hay were 65% less likely to develop Inflammatory Airway Disease.
Sarah's horses winter in Wellington, Florida, where she's based with her husband and noted international coach and judge, Lee Tubman. Summer and fall are spent mostly in Southern California. In both locations, Sarah appreciates Haygain's ability to produce forage of consistently appealing taste and texture. With the heat in both areas, and the humidity in Florida, she values the
additional moisture
contained in Haygain Steamed Hay – up to three times that of dry counterparts. Extra moisture in hay improves hydration and digestion.
A more subtle benefit is a slight decrease in the sugars in hay. Unlike soaking hay, Haygain steaming preserves its nutrients. The one exception is water soluble carbohydrates, which are reduced slightly – and to varying degrees—during Haygain steaming. With the big Warmbloods Sarah campaigns, that's often just enough to help them process this nutrient.
April 1, 2012 marks the date Sarah stepped out on her own as a professional and "odyssey" is the only word for her ensuing adventures. Pony Club days in northern Nevada, running a 50-horse sales and training barn in California and an out-of-the-blue phone call that changed her career trajectory sometimes seem events of only yesterday.
Even with today's smaller stable of horses, Sarah still warrants her reputation as one of the hardest working horse people in the sport. The quality of her work ethic is matched only by the quality of her compassion and open-mindedness, toward horses and their people.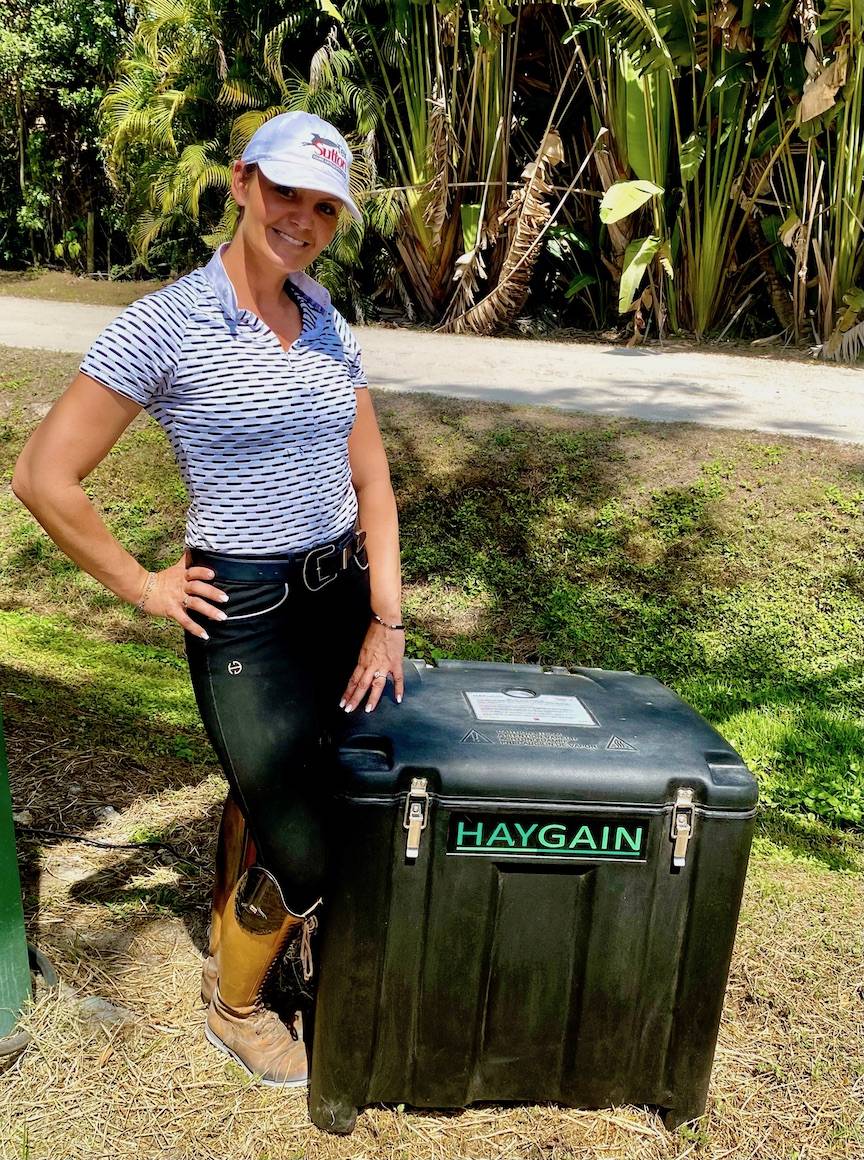 She's given free clinics to young Pony Clubbers and offered a kind word and helping hand to many. One day, she listened patiently as a horse newbie stranger called to say he'd purchased a Friesian sight unseen and asked if she could help.
"Yes," Sarah said.
The caller was Jerry Ibanez and the horse was Tailing, who Sarah brought along to Prix St. Georges success. In the process, the new owner recognized Sarah as someone special and decided to back her in pursuing dreams of international level competition. That led to purchasing talented prospects in Europe. These included First Apple, Sarah's partner in individual and team dressage gold at the 2019 Pan Am Games in Peru.
Like the literary odyssey, Sarah's journey has had its challenges: A barn fire and long-term relocation at two stables preceded her settling in at Summit Farm in Southern California's Murrieta. And, only three months after the Pan Am Games, Jerry Ibanez passed away suddenly and too soon.
"Jerry was definitely somebody who was too good to be true," she reflects. "I was so fortunate to have him take a leap of faith in me. And I am so fortunate that his family recognized how important the horses were to him and has started to fall in love with the sport. His passing was a horrible thing.
"When things in life go the wrong way, you just have to find a way to make a positive turn." Sarah continues to campaign First Apple and other Summit Farm rising stars and has expanded her program to take on a select few prospects, sales horses and clients.
Throughout her journey, she's been gratified to keep her friends and fans from the early days. Her 45,000 Instagram followers include those who've "stuck with me all along and message me all the time," Sarah shares.
"I don't see myself as an 'influencer,' per se. But I'd like to be a mentor to young people and adult amateurs and to show them the insider aspects of living this life. It's not the life of the rich and famous, but a real girl that is up at 5 a.m, cleaning the stalls and doing the other barn chores. It's important that this sport doesn't turn an elitist sport. We are at the top of the sport and we handle all our own horses. We are real horse people who happen to be lucky enough to ride some very talented horses."
So it's not just the staff that appreciate Haygain's ease of operation. "I run the Haygain. Lee runs the Haygain. We all do it and it's easy!"
Get the Haygain Newsletter
Subscribe for the latest news, health advice, special offers and competitions. Fill out the form at the bottom of this page.