Even occasional coughing, at work or rest,
is a red flag for respiratory disease in the horse.

Unfortunately, coughing is one of the more obvious symptoms of respiratory disease. Extensive research indicates that some degree of Inflammatory Airway Disease affects over 80% of active performance horses, even though it is easily and often undetected.
• Unexplained poor performance, slow respiratory recovery rates, heavy breathing, nasal discharge and reluctance to work at high exertion are subtle indicators of conditions on the Equine Asthma Spectrum.

• As a presenting veterinarian at last fall's American Association of Equine Practitioners conference noted, respiratory issues are the number-one performance limiter in otherwise sound horses.
High-performance riders and everyday owners rely on Haygain Steamed Hay to treat and, ideally, prevent respiratory problems.
• High temperature steaming has been scientifically proven to rid hay of 98% of the dust, bacteria, fungi and mold spores that jeopardize the microscopically thin lining of the equine respiratory tract, where breathing problems begin.
• Protecting that brings better breathing, better performance and overall health and well-being.

Here's how our champions use Haygain to protect and improve their horses' respiratory health.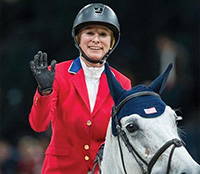 "Luebbo had a little bit of a cough last summer. He'd cough once or twice when I started working him, then it would go away and come back. Ever since he's been on the Haygain, he hasn't coughed at all!"

Jamie Barge, Team USA
World Cup Finalist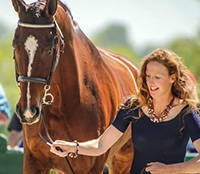 "Over time, we've had a few horses with allergies and Haygain steamed hay has made a big difference. We've seen a lot less coughing."

Selena O'Hanlon,
Team Canada Olympic, WEG, Pan Am Games team member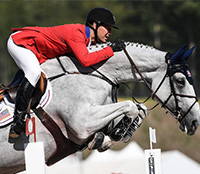 "We are incredibly happy to have added the Haygain Hay Steamer to our program, and quickly noticed an increase in the quality of our horses' breathing, especially in those with respiratory problems." McLain Ward, Team USA
Three Olympic medals
2018 WEG gold medalist
World Cup Finals champion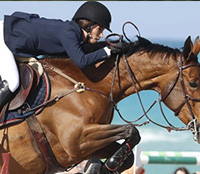 "I love using Haygain Steamed Hay because it helps improve my horses' respiratory conditions and stopped them from coughing. With Haygain's help, I can make sure the hay wherever I go is never dusty and it's bacteria free, so my horses don't have any issues during competitions."
Jessica Springsteen, Team USA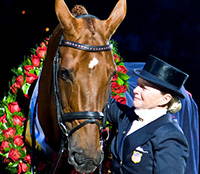 "Before I was introduced to Haygain, I was soaking hay for Brentina...Then I found Haygain and not just Brentina but every horse in our barn is so happy. I no longer hear sneezing or coughing due to dust or mold spores."
Debbie McDonald, Team USA

US Dressage Chef d'Equipe Olympic medalist2 World Cup medals2 Pan Am Games medalsWorld Championship medalist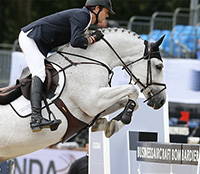 "Travelling a lot, obviously you can't always take your own hay and you don't always know where it comes from." Their stable, Staysail Farm in New York, usually has about 14 horses competing and they stay remarkably free of colds, coughs and illnesses. "I really think that's a lot because of the steamed hay."
Beat Mändli, Team Switzerland Olympic medalist
World Cup winner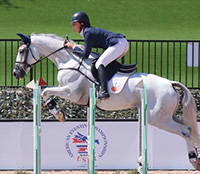 "Prevention is always better than cure, so in our barn we like to have our competition horses on steamed hay.... It is very important that our horses can stay on steamed hay to reduce dust in the trailer, and continue their routine at the competitions for their best chances at winning results."
Lauren Kieffer, Team USA
Olympics 2016
WEG 2018
Pan Am Games Gold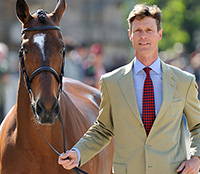 "[We] take the smaller unit away to competitions all over Europe, which we find essential. The horses have been free from coughs and nasal discharge, they are healthy and performing well."
William Fox-Pitt, Team GB
3 Olympic medals
7 World Championship medals

* Dauvillier J, Woort F. T, Van Erck‐Westergren E. (2018) Fungi in respiratory samples of horses with inflammatory airway disease, Journal of veterinary internal medicine, 2018;1-8