Home and Away: Steamed Hay is Here to Stay for Team Irwin Dressage
Haygain is proud to welcome Tina & Jaimey Irwin of Irwin Dressage aboard the Steam Team!

By Kim Miller | Equestrian Writer
Tina and Jaimey Irwin like a busy lifestyle. They have dressage horses competing at or on their way to the international levels and a steady stream of developing young horses and sales prospects. They average 25 horses in their beautiful Stoney Lake Equestrian facility in Stouffville: their own, their clients' and sales prospects, and they give and host clinics. Woven into all that is a full family life with their children, 7-year-old Marlies and 10-year-old Gavin.
Amid whirling demands on their time and attention, providing their horses top care is an ever-present Team Irwin priority. That's why Haygain Steamed Hay has become an important addition to their program since first trying it earlier this year.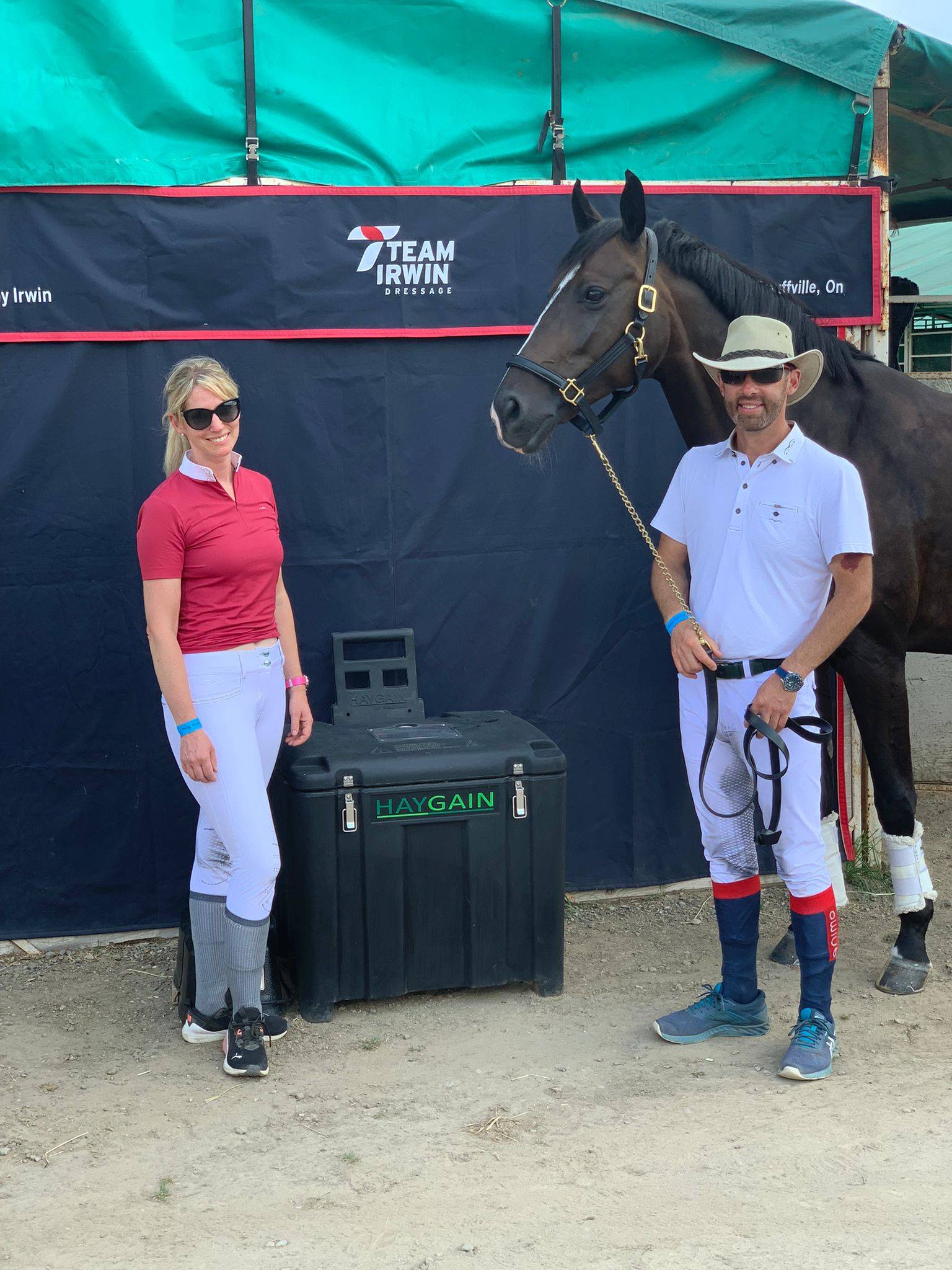 Team Irwin staff members had been soaking hay for five or six horses struggling with allergies and/or respiratory issues. They were the first to get Steamed Hay when their HG 600 unit arrived in March. "Steaming made a huge difference in our day-to-day operations for the horses and our staff," says Tina.
Haygain's High Temperature Hay Steaming reduces up to 99% of the dust, mould, bacteria and other breathable irritants found even in hay of good nutritional quality. That's why the Irwins noticed immediate improvements in the handful of horses with periodic coughs or breathing issues. While an occasional cough in a person is rarely cause for concern, it is in a horse. Even isolated coughs can be early indicators of conditions on the Equine Asthma Spectrum that affect over 80% of active sporthorses.
Tina appreciates the preventative aspects of feeding Steamed Hay. As with most equine health issues, preventing them is easier than treating or managing them. Haygain's ability to reduce respirable irritants and allergens from the horse's environment makes it central to healthy horse management. It also nearly triples the moisture content in hay, which helps with digestion and hydration. Steamed Hay's appetizing scent and taste ensure even picky eaters get the nutrients they need.
Shortly after their first Hay Steamer was easily incorporated into the barn management routine, Jaimey and Tina realized one unit wasn't enough. "We kept putting more and more horses on Steamed Hay." They also wanted to take that portable model to shows and still have horses at home get Steamed Hay while they were away. Hence the recent arrival of the Haygain HG 2000 model which steams a full bale.
In early August, the Irwins took their portable steamer to its first show. Like Hay Steaming's incorporation at home, it's been easy, Tina notes of their Caledon Dressage outing. "It was really uncomplicated to set up at the show. It was easy to carry around and cart it onto the horse trailer. We didn't need a big strong body to do that: it rolled right up the ramp."
Home and away, the Irwins love Haygain's ease of use, especially compared to soaking hay to reduce dust. "It is not as much of a mess, with all the water buckets and the staff getting dirty. It's super easy: you put the hay in, turn the steam on and let it alone."
The scent of steamed hay is wonderful as it wafts throughout the barn, Tina adds.
COVID travel restrictions prevented Tina and Jaimey from adding to their impressive international resumes over the past 18 months. Both have Grand Prix horses and up-and-comers a-plenty to campaign when conditions allow. They hope that three months on next winter's Adequan Global Dressage Festival in Florida will get them back on track toward a main goal of the ECCO FEI World Championships in Herning, Denmark next August.
Tina has three medals from the Pan American Games, in 2011 and 2019, and several Nations Cup wins and contributions for Canada. In 2019, she was Equestrian Canada's Athlete and Equestrian of the Year. Her top horse at the time, Laurencio, was named Horse of the Year twice, in 2016, and in 2019. Laurencio, by the way, is now owned and campaigned by a fellow Hay Steaming fan, Christina Morin, an amateur rider in the States and a member of Dressage at Devon's Board of Directors.
Jaimey has represented North America at the World Cup in 2013 and was part of the Nations Cup Gold medal winning team as well as winning individual silver in Florida in 2017. He currently has his Grand Prix horse Donegal V short-listed for the Canadian Team and has a new star on the rise, Simsalabim, who just made her intermediate 2 debut.
As a sought-after Equestrian Canada High Performance Coach 1. Jaimey often travels to give clinics himself and has a long resume of students and horses excelling at all levels.
The Irwins sometimes swap their top horses based on competitive and family priorities. Two mares, Fancy That and Stiletto, are among their most advanced campaigners at the moment and the Team Irwin pipeline is flowing with talent and potential.
Supporting Canadian sport is another Team Irwin priority and Tina and Jaimey are excited to host an early October clinic with international dressage judge Stephen Clarke. It's being organized by judge Don Barnes, for the Canadian Dressage Owners and Riders Association, and they expect that auditors will be welcome and beneficial to dressage riders at all levels.
COVID or no, the Irwins are happiest at their busiest. That approach contributes to their own careers, that of their clients and Canadian sport as a whole. Efficient and healthy stable management practices are a big part of their success and they're happy to have Haygain Steamed Hay's help in that everyday endeavour.
Get the Haygain Newsletter
Subscribe for the latest news, health advice, special offers and competitions. Fill out the form at the bottom of this page.