Soaring With Sensitivities
Jamie Gornall: "You have to be mindful of what the horses eat, how much they'll eat it, how they eat and how they digest it."

By Kim Miller  | Equestrian Writer
Sensitivity and refinement are prized traits in show jumpers. British international rider Jamie Gornall breeds for them in Gornall Equestrian's homebreds and he seeks them in prospects like current mounts Chacco Fleur, Chagolou and Izara.
"I have a lot of these qualities in my horses," explains the 5* competitor. "Everything about them is so refined and they are lighter in every way." Their skin, for example, is so sensitive they twitch at a fly's touch. The upside of this response to external stimuli is that these horses typically don't like touching jump poles. But there's a flip side: "When horses are this way on the outside, they are generally like that on the inside, too."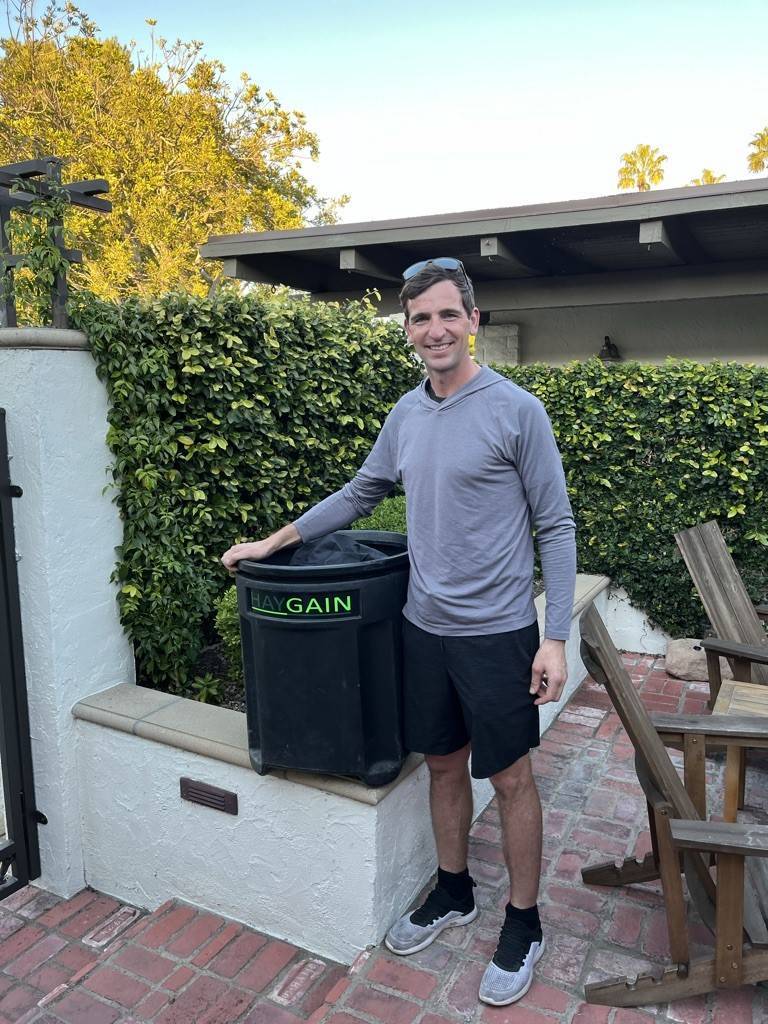 That's a main reason Jamie adopted Haygain High Temperature Steamed Hay when he launched Gornall Equestrian in York, England in 2015. He was familiar with Haygain's benefits from working at top yards in Europe and competing on the international circuit there.
The horse with whom he was targeting the British Tokyo team, Christian 25, is a classic example. The big white Holsteiner stallion epitomized sensitivity as a consistently clear jumper and as high maintenance in the horse keeping department. "He is white with a pink nose, so any bits of sunlight, you had to be sure to have factor 50 sunblock on him at all times." His small sensitive mouth, palate and tongue put a premium on finding just the right bit.
Jamie is convinced those external sensitivities translate to a highly sensitive respiratory and digestive tract. "When Christian 25 first came from Germany, he wouldn't touch any forage or fibre. It was very difficult to get him to eat any forage because it was too course."
 Christian's response corroborated research demonstrating that horses prefer Haygain Steamed Hay to dry or soaked forage. "When we started steaming his hay that's when he started to eat it." Jamie is convinced that's because Steamed Hay was softer, didn't irritate the trachea and was overall more appealing in taste and texture.
"It's not like 20 years ago with the old German horses that were like goats: you could feed them tin cans and thistles and they'd still have a shiny coat," Jamie observes. "Now you have to be mindful of what the horses eat, how much they'll eat it, how they eat and how they digest it."
The enhanced palatability and easier eating of Haygain Steamed Hay is one of several reasons Jamie considers it critical to his horses' health.
"I have bad hay and dust allergies myself, and I can always tell when hay is dustier or has more microbes in it," he explains. "If I'm noticing the effect of that, then for sure they can because they're the ones putting their nose into the hay." Ideally, horses spend least 12 hours a day putting their nose into the hay. He feels much better about that when that hay is steamed because the Haygain process reduces up to 99% of the dust, mould, bacteria and other allergens found even in forage of good nutrient quality.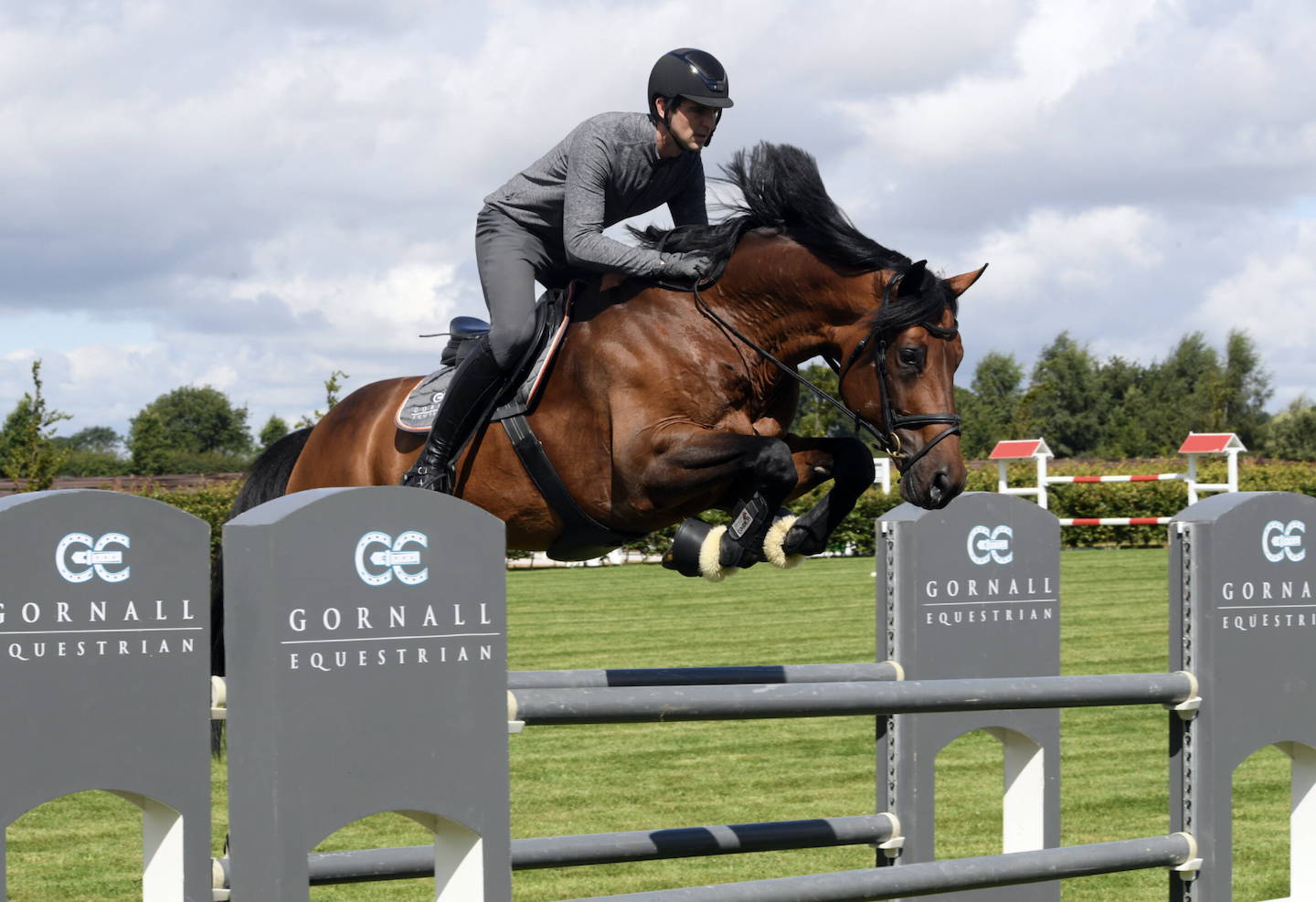 Gornall Equestrian has two bale size Haygain steamers that stay at home, and a travel model. Since feeding Haygain, he's observed a less frequent need to administer nebulized saline or antimicrobial treatments. Those treatments help address irritation and inflammation in the upper airways and lungs.
Healthier digestive function is another benefit. "The most important thing is to get a continuous source of fibre going into the horse, so all the organs function better," Jamie continues. "Chewing that fibre triggers saliva, which is alkaline, so it helps drop the pH (acid) balance in the gut. 
Ulcers are the big buzzword going around today, and I think this is the most important thing to preventing them. It's a lot cheaper to buy a Haygain than to keep putting ulcer medication into them all the time."

With Gornall Equestrian running smoothly under a capable staff at home in England, Jamie expanded his operation to the United States late last year. COVID and Brexit had made it challenging to campaign top horses from England. After a visit to the Florida circuit, he decided the newly-thriving international jumping scene in Southern California was the best fit for the horses he plans to peak come time for 2024 Paris and 2028 Los Angeles Olympic consideration.
The move followed an invitation from Meimei Zhu to base at her private facility in Southern California. Meimei grew up in California and rides internationally for China. They'd met while Jamie was riding for Marco Kutscher at Ludger Beerbaum's program in Germany. That was one of several stretches riding for sport superstars before starting Gornall Equestrian.
At 14, Jamie swapped soccer boots for saddles. What he lacked in funds for formal training and fancy ponies, he made up for in raw talent. By agreeing to ride a neighbour's difficult horse, Jamie earned a lesson with a regional Team Great Britain talent scout. His obvious natural abilities prompted the scout to ring Di Lampard and, a week later, Jamie was on his way to Lampard's home yard. The then-20-year-old wound up riding for the future Team GB chef d'equipe for three years, launching his international career.
Positions with Sweden's Rolf Göran Bengstsson and Germany's Janna Friederike Meyer put Jamie amid a cadre of established and rising international jumping stars.
He's looking forward to harnessing all that experience in a "blinkered focus" on the 2024 and 2028 Olympic Games. His current string has plenty of potential. It includes two Chacco Blue prospects, the 9-year-old Chacco Fleur and 10-year-old Chagolou, Garnall Equestrian's main breeding sire. Eight-year-old Izara is right behind them. He feels all have ample potential and now need the regular mileage attainable with steady competition in California.
Jamie also helps Meimei with her horses and her continued international ascent as a trail blazer for the sport in China. Meimei's successes and her family's involvement have been instrumental in promoting show jumping in China. Jamie looks forward to being part of that with occasional trips to work with horse/rider pairs at the Longines World Equestrian Academy developed by Ludger Beerbaum.
Having footprints in England, North America and China is a synergistic set-up for Jamie's competitive ambitions, Gornall Equestrian's breeding and development plans and for Jamie's clients.
"Young horses need to be normal," Jamie explains. "In England, the 4, 5 and 6-year-olds can be turned out, do lots of little shows, including cross-country courses and dressage. They
can see the world and be horses. We have the variety in what we can do and achieve there, then when the horses come here (California), they are more seasoned and ready to go."
Wherever they are in the world, Jamie's horses get Haygain Steamed Hay.
Get the Haygain Newsletter 
Subscribe for the latest news, health advice, special offers and competitions. Fill out the form at the bottom of this page.